The Junior and Intermediate String Orchestras give string students an opportunity to develop orchestral ensemble and musical skills.
Live, in-person and socially-distanced rehearsals & concerts
Conductor Joy Schuster and the GYMC have worked hard to bring back in-person orchestra rehearsals in these challenging times. Rehearsals will be in the GYMC Recital Hall with a new socially-distanced setup. Of course, all participants must wear masks during rehearsal and while inside the GYMC.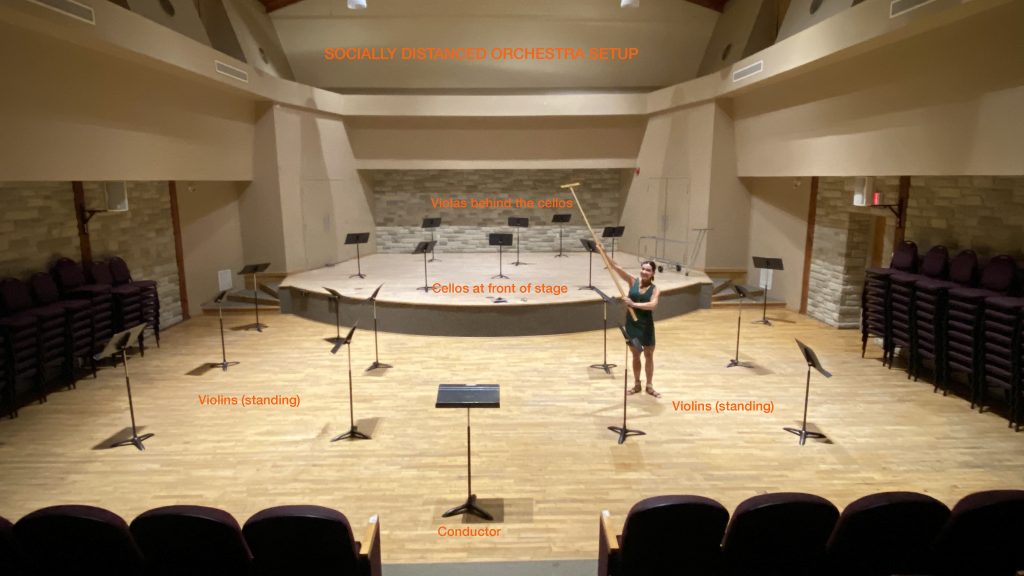 GYMC String Orchestras
The GYMC orchestra program began as the happy joining of like-minded teachers and concerned music lovers who wanted to make sure that all the children of Guelph and surrounding areas have the opportunity to play in an orchestra. After a trial year in 2004, the orchestras debuted in December 2005. The Junior and Intermediate orchestras are for string players only, and are intended to give young performers an opportunity to develop orchestral ensemble and musical skills, leading to participation in the Guelph Youth Symphony Orchestra and beyond.
The GYMC orchestras are directed by Joy Schuster. Read about Joy here.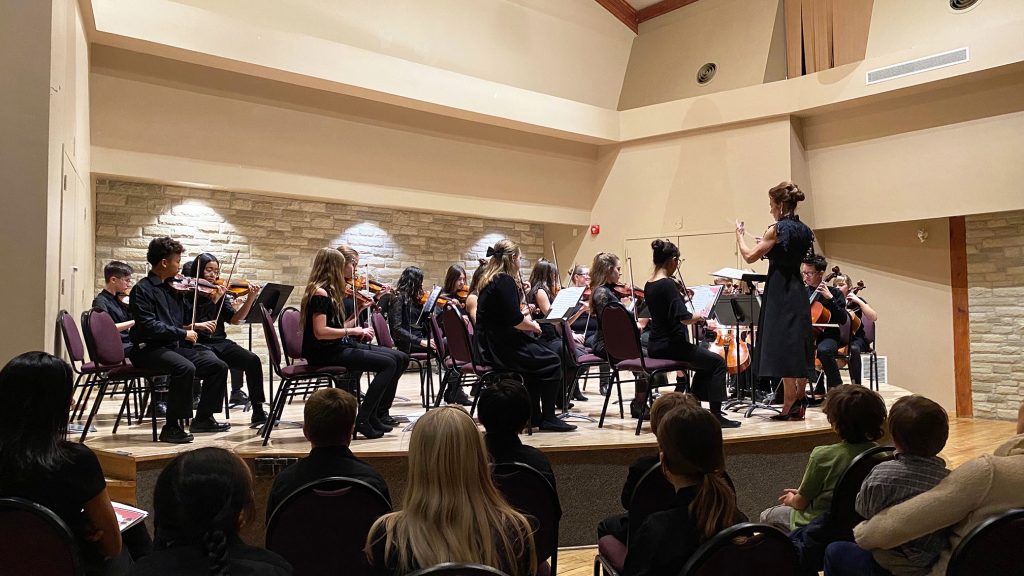 The Junior and Intermediate Orchestras are for string players only, and are intended to give young performers an opportunity to develop orchestral ensemble and musical skills.
In 2018 and 2019, the GYMC Junior String Orchestra, directed by Tak Kwan, won First Place in the OMFA (Ontario Music Festivals Association) Provincial Finals!
SESSIONAL DATES
Junior Orchestra rehearsals on Saturdays 9:45 – 10:45 am
Intermediate Orchestra rehearsals on Saturdays 11:00 am – 12:30 pm
Session 1: September 12 – December 11, 2020
Session 2: January 9 – April 30, 2021
These programs are recommended for players at Royal Conservatory of Music (RCM) level 4 and above.
The cost for either the Junior or the Intermediate String Orchestra is $375 (with an early bird price of $360 until June 20). Registration includes a weekend rehearsal retreat. The Orchestra program is 25 weeks, with rehearsals on Saturday mornings from September to May.
---
AUDITION DATES

Audition dates will be offered via Zoom/online June 15, 16 & 17 (unless current COVID-19 restrictions lift and conductor Joy Schuster finds that she will be allowed to have one-on-one, onsite auditions. Joy will ensure that. if the latter is the case. those performers needing to audition will be contacted via email and instructed on all necessary protocols and guidelines. An additional audition day will be held on July 8th. 
---
REGISTER NOW FOR 2020-21
For complete information about the String Orchestra calendar, how to register, pay, etc., please refer to the 2020-21 String Orchestra Registration Package (download link below)
Registration Form (p. 9)
Liability/Permission Waiver (p. 10)
Audition/Teacher Recommendation Form (p. 11)
Please see page 2 of the Registration Package for details on how to pay, drop off your registration in the GYMC secure outside mailbox or email to the conductor, etc. (This change is important as we cannot currently set up appointments to let people into the GYMC.) The simplest method is to register & pay online.
Mail to: GYMC, 75 Cardigan Street, Guelph N1H 3Z7
Download the String Orchestra Registration Package
REGISTER ONLINE NOW
---
PAY ONLINE NOW via our SQUARE STORE
JUNIOR ORCHESTRA
INTERMEDIATE ORCHESTRA
The GYMC would like to thank conductor Jef ten Kortenaar for his leadership and loving caring of the orchestras for over 10 years, and also Tak Kwan for his fine work with the orchestras from 2017 to 2019.
SaveSave
SaveSave
SaveSave
SaveSave
SaveSave
SaveSave
SaveSave
SaveSave