One of the greatest pianists of our time, Valerie Tryon has had a distinguished career of performances around the world in recital, as a concerto soloist with many of the greatest international orchestras, and as a prolific recording and broadcast artist.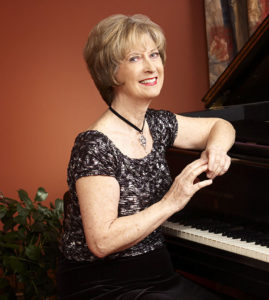 Valerie Tryon's career as a concert pianist began while she was still a child. Before she was twelve she had broadcast for the BBC and was appearing regularly before the public on the concert platform. She was one of the youngest students ever to be admitted to the Royal Academy of Music where she received the highest award in piano playing and a bursary which took her to Paris for study with Jacques Février.
Her place among Britain's acknowledged artists was assured when a Cheltenham Festival recital brought her the enthusiastic acclaim of the country's foremost critics. Since then she has played in most of the major concert halls and appeared with many of the leading orchestras and conductors in Britain. Her career has latterly taken her to North America where she has appeared in such cities as Toronto, Montreal, Boston, Washington, Pittsburgh, Minneapolis, San Francisco, and Los Angeles. She now lives in Canada where she was the Artist-in-Residence at McMaster University, but spends a part of each year in her native Britain. In recent years, Ms. Tryon has made a series of concerto recordings with the London Symphony Orchestra and the Royal Philharmonic Orchestra. Soon to be released is a new CD with the RPO featuring the music of Rachmaninov, Dohnanyi and Richard Strauss.
Her repertoire is enormous and ranges from Bach to contemporary composers; it includes more than sixty concertos and a vast amount of chamber music. Among British composers, both Alun Hoddinott and John McCabe have dedicated works to her. She is well known for her sensitive interpretations of the romantics — Chopin, Liszt, and Rachmaninov in particular. When the BBC launched its Radio Enterprises record label, some years ago, Valerie Tryon's performance of Rachmaninov's Etudes Tableaux, op. 39, was the first classical disc to be released. More recently she has recorded the complete Ballades and Scherzos of Chopin for the CBC's "Musica Viva" label, which Harold Schonberg of the New York Times described as "the best Chopin recording of the past decade." Notwithstanding her involvement in the music of the 19th century, she retains a deep love of Scarlatti, whose keyboard sonatas she has delighted in playing in public since her childhood and early youth, and to which she remains deeply committed. Likewise, her ongoing series of the complete piano music of Claude Debussy, represents a special passion: she has twice performed this important repertoire in a demanding cycle of five successive recitals. One of Ms. Tryon's chief enthusiasms is chamber music. Two of her best-known duo partners in England were Alfredo Campoli (violin) and George Isaac (cello), with both of whom she made a number of significant recordings. Her performance with Isaac of Rachmaninov's Cello Sonata is now considered to be a collector's item.
Valerie Tryon has been awarded several distinctions for her services to music. She was an early recipient of the Harriet Cohen Medal. More recently the Liszt Memorial Plaque was bestowed on her by the Hungarian Minister of Culture in recognition of her lifelong promotion of Franz Liszt's music.
PROGRAMME
D. SCARLATTI: Three sonatas
CHOPIN: Ballade No. 1 in G minor
Nocturne, Op. 9, No. 1
Nocturne, Op. 9, No. 2
CHOPIN: Etudes, Op. 25
No. 1 in A flat major
No. 2 in F minor
No. 6 in G sharp minor
CHOPIN: Ballade No. 4 in F minor
– Interval –
SCHUMANN-LISZT: Devotion (Widmung)
LISZT: Un Sospiro
LISZT: La Leggierezza
LISZT: Consolation No. 2 in E major
Consolation No. 3 in D flat major
Consolation No. 6 in G sharp minor
LISZT: La Campanella